Typhoon Haiyan: at least 10,000 reported dead in Philippine province
Estimated death toll soars as path of destruction leaves many parts of Philippines inaccessible to government and aid officials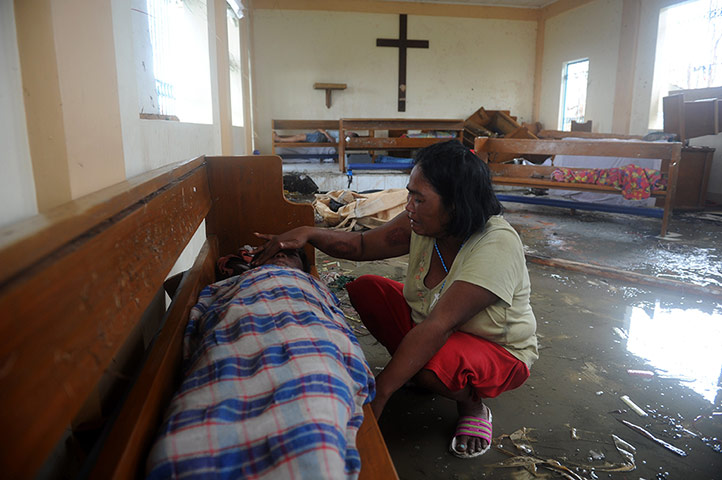 Photograph:

Noel Celis/AFP/Getty Images
At least 10,000 people are thought to have died in the central Philippine province of Leyte after Typhoon Haiyan, one of the strongest storms ever to make landfall, lashed the area, swallowing coastal towns, a senior police official said early on Sunday morning.
About 70-80% of the buildings in the area in the path of Haiyan in Leyte province was destroyed, said chief superintendent Elmer Soria. "We had a meeting last night with the governor and the other officials. The governor said based on their estimate, 10,000 died," he said.
Tacloban city administrator Tecson Lim said that the death toll in that city alone "could go up to 10,000". Tacloban is the provincial capital of Leyte, with a population of more than 200,000. The Philippine Red Cross said in Tacloban bodies had been found "piled up around the roads" and in churches. Between 300 and 400 bodies had been recovered, Lim said.
On Samar island, which faces Tacloban, Leo Dacaynos of the provincial disaster office told Associated Press on Sunday 300 people were confirmed dead in Basey town and another 2,000 were missing.
He said the storm surge caused sea waters to rise 20 feet when the typhoon hit. There were still towns on Samar that had not been reached, he said, and appealed for food and water. Power was knocked out and there was no mobile signal, making communication possible only by radio.
Many corpses hung on tree branches, buildings and sidewalks, Associated Press reported.
Read the rest here: http://www.theguardian.com/world/gallery/2013/nov/09/super-typhoon-haiyan-philippines-destruction-in-pictures#/?picture=422066277&index=1