Published Friday, July 26, 2013 A.D. | By Donald R. McClarey
The American Catholic
As Anthony Weiner demonstrates that being a sociopath is not always an advantage in politics, Andrew McCarthy, who was the lead prosecutor in the successful prosecution of Sheik Omar Abdel Rahman and eleven others for the 1993 World Trade Center bombing, explains at National Review Online why Weiner's wife is much more interesting than her "stand by her worthless man" routine indicates:
"
Charlotte
's revulsion over Huma Abedin's calculated "stand by your man" routine is surely right. Still, it is amazing, as we speculate about Ms. Abedin's political future, that the elephant in the room goes unnoticed, or at least studiously unmentioned.
Sorry to interrupt the Best Enabler of a Sociopath Award ceremony but, to recap, Ms. Abedin worked for many years at a journal that promotes Islamic-supremacist ideology that was founded by a top al-Qaeda financier, Abdullah Omar Naseef. Naseef ran the Rabita Trust, a formally designated foreign terrorist organization under American law. Ms. Abedin and Naseef overlapped at the Journal of Muslim Minority Affairs (JMMA) for at least seven years. Throughout that time (1996–2003), Ms. Abdein worked for Hillary Clinton in various capacities.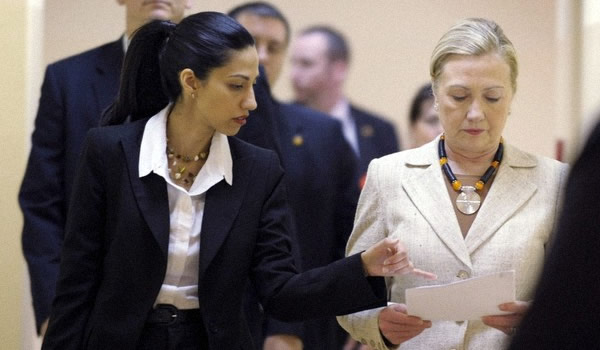 Ms. Abedin's late father, Dr. Zyed Abedin, was recruited by Naseef to run the JMMA in Saudi Arabia. The journal was operated under the management of the World Assembly of Muslim Youth, a virulently anti-Semitic and sharia-supremacist organization. When Dr. Abedin died, editorial control of the journal passed to his wife, Dr. Saleha Mahmood Abedin — Huma's mother.
Saleha Abedin is closely tied to the Muslim Brotherhood and to supporters of violent jihad. Among other things, she directs an organization – the International Islamic Committee for Woman and Child. The IICWC, through its parent entity (the International Islamic Council for Dawa and Relief), is a component of the Union for Good (also known as the Union of Good), another formally designated terrorist organization. The Union for Good is led by Sheikh Yusuf al-Qaradawi, the notorious Muslim Brotherhood jurist who has issued fatwas calling for the killing of American military and support personnel in Iraq as well as suicide bombings in Israel. (As detailed here, the Obama White House recently hosted Qaradawi's principal deputy, Sheikh Abdulla bin Bayyah, who also endorsed the fatwa calling for the killing of U.S. troops and personnel in Iraq.)
Like Sheikh Qaradawi, who helped write the charter for the IICWC, Saleha Abedin is an influential sharia activist who has, for example, published a book called Women in Islam that claims man-made laws enslave women. It reportedly provides sharia justifications for such practices as female-genital mutilation, the death penalty for apostates from Islam, the legal subordination of women, and the participation of women in violent jihad. Dr. Abedin has nevertheless been hailed in the progressive press as a "leading voice on women's rights in the Muslim world" (to quote Foreign Policy). What they never quite get around to telling you is that this means "women's rights" in the repressive sharia context.
Back to daughter Huma. In the late mid to late Nineties, while she was an intern at the Clinton White House and an assistant editor at JMMA, Ms. Abedin was a member of the executive board of the Muslim Students Association (MSA) at George Washington University, heading its "Social Committee." The MSA, which has a vast network of chapters at universities across North America, is the foundation of the Muslim Brotherhood's infrastructure in the United States. Obviously, not every Muslim student who joins the MSA graduates to the Brotherhood — many join for the same social and networking reasons that cause college students in general to join campus organizations. But the MSA does have an indoctrination program, which Sam Tadros describes as a lengthy process of study and service that leads to Brotherhood membership — a process "designed to ensure with absolute certainty that there is conformity to the movement's ideology and a clear adherence to its leadership's authority." The MSA gave birth to the Islamic Society of North America (ISNA), the largest Islamist organization in the U.S. Indeed the MSA and ISNA consider themselves the same organization. Because of its support for Hamas (a designated terrorist organization that is the Muslim Brotherhood's Palestinian branch), ISNA was named an unindicted co-conspirator in the Holy Land Foundation case, in which several Hamas operatives were convicted of providing the terrorist organization with lavish financing."