Sorry, retweeting the Pope won't get you out of hell
07:45 PM ET
By the Rev. James Martin, SJ, special to CNN
(CNN) –Here were the tantalizingly weird headlines: "Follow pope online, get to heaven sooner – Facebook likes don't count." "Cut your time in purgatory by following pope on Twitter." And, worst of all, from Slate: "Pope now offering indulgences in exchange for Twitter followers."
Similar headlines popped up on more than 190 news sources on Wednesday.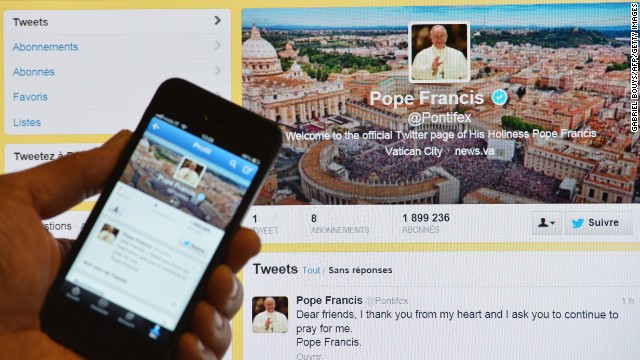 Ha ha. Is the Catholic Church offering time off in hell– or purgatory, depending on the website – just for checking your Twitter feed every few hours? Is the church really that dumb? And here I thought Pope Francis was cool, or as Esquire recently termed him, "awesome."
This is (another) case of how the media misunderstands and misreports a story from "The Vatican."
Here's how it seemed to have happened.
On June 24, the Apostolic Penitentiary (the Vatican office that deals with matters concerning sin,) issued a document that said the faithful who attend the upcoming World Youth Day in Brazil would receive a "plenary indulgence" for their efforts during pilgrimage.
That's a traditional Catholic term for the full remission of the "temporal punishment" in the afterlife due to sin. The theological idea is that by doing good works on earth, or by engaging in pious practices like a pilgrimage, you can help "work off" some of the temporal punishments that may await you after death.
But just from checking Twitter every few hours? Let's leave aside the very complicated theology of the plenary indulgence for a moment, and see how this story got out of hand…
Read more at CNN's Belief Blog.
James Martin is a Jesuit priest, editor at large at America magazine and author of "The Jesuit Guide to (Almost) Everything." He tweets, but won't promise to get you out of purgatory, at @JamesMartinSJ .